Results
The Proof is in the Savings
Tyson & Mendes has developed specialized defense methods to keep down damage awards. In the face of skyrocketing jury verdicts across the country, we have proven our methods deliver outstanding results against the best plaintiffs' attorneys in the country, saving our clients billions of dollars each year.
In 2022, we saved clients $1 billion
In 2021, we saved clients $667 million
In 2020, we saved clients $606 million
In 2018, we saved clients $368 million
Our Track Record
In addition to the widely-hailed Howell v. Hamilton Meats California Supreme Court victory, Tyson & Mendes attorneys have played a pivotal role in some of the country's top insurance defense cases, with high profile results proudly demonstrated in our track record, some of which are highlighted below.
Press Releases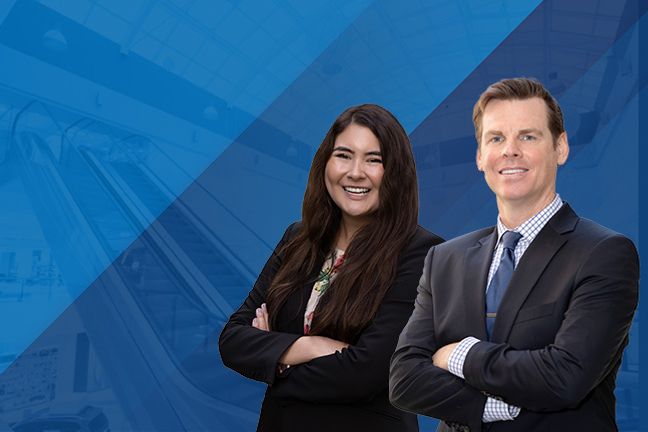 San Diego County Court Rules in Favor of Defense in Trip and Fall Case
Press Releases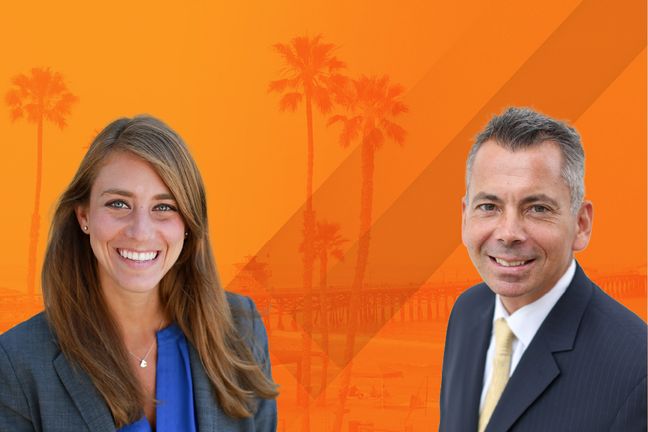 Tyson & Mendes Wins Defense Verdict in $9.4 Million Elder Neglect Case
Press Releases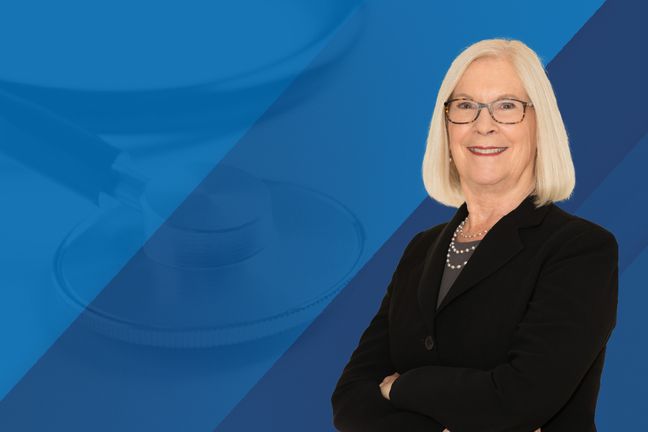 Million-Dollar Wrongful Death Medical Malpractice Lawsuit Results in Non-Suit Mid-Trial
Press Releases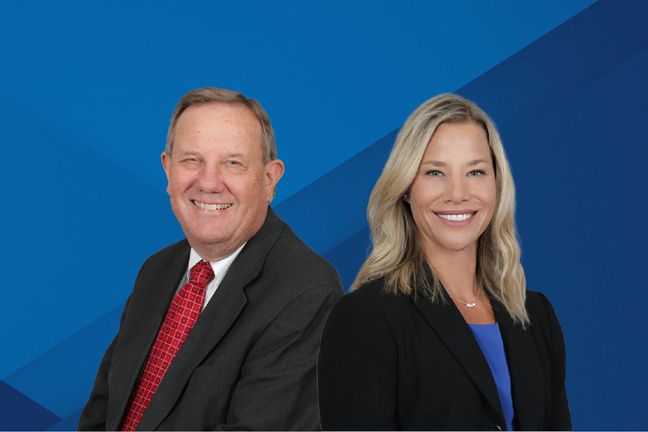 Jury Returns Fraction of Original Demand in Auto Liability Case: Tyson & Mendes Fresno Team Wins Defense Verdict
Press Releases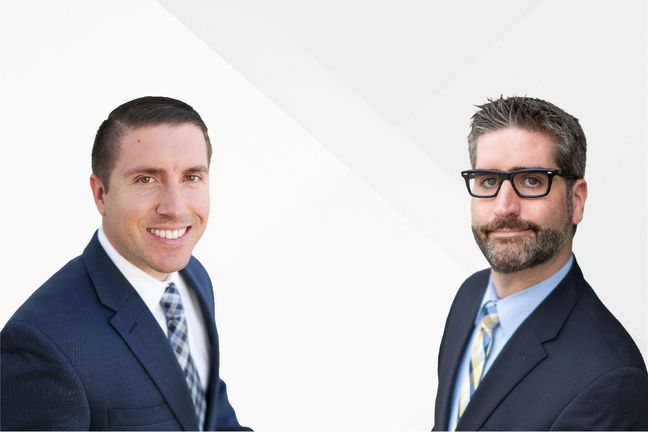 Tyson & Mendes Prevails for Client in Wrongful Death Bench Trial
Press Releases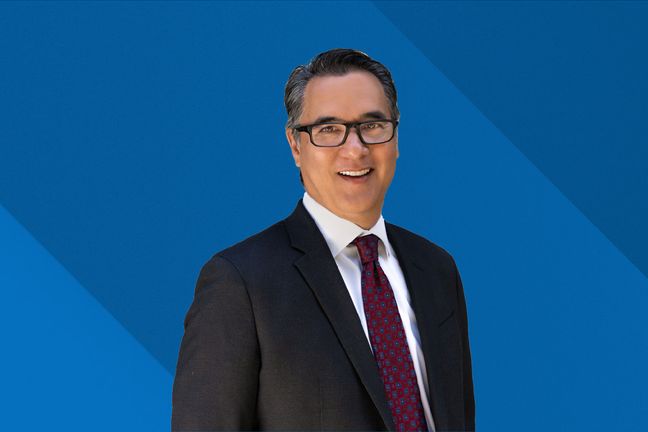 Summary Judgment Affirmed in Traumatic Brain Injury Case: Court Rules in Favor of Indiana-Based Pool Design Company
Colorado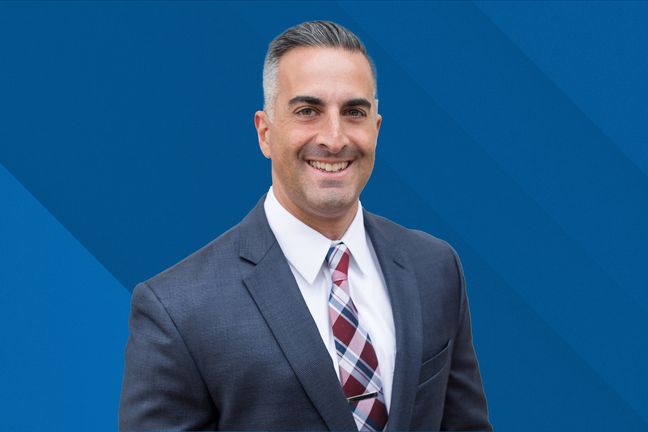 Tyson & Mendes Denver Team Wins Motion for Summary Judgment in Bad Faith Case
Press Releases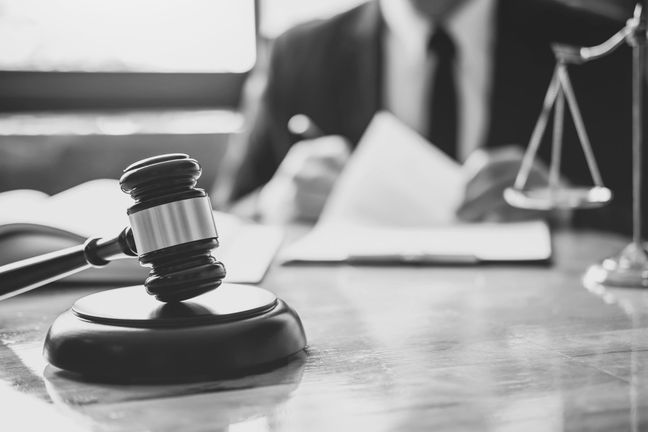 Jury Rules in Favor of Former Lemon Grove City Councilmember in Personal Injury Lawsuit
Press Releases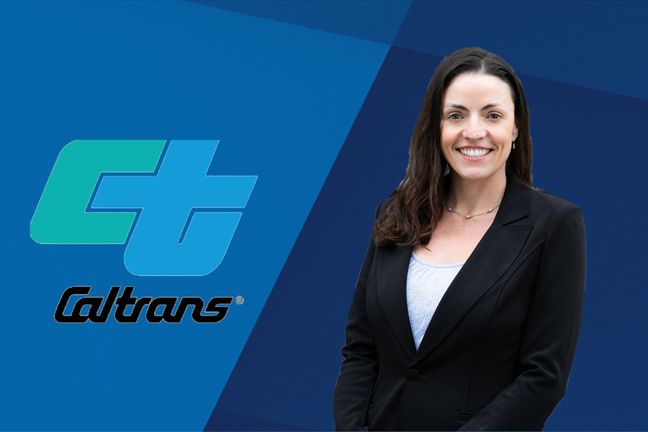 Appeals Court Rules in Favor of Northern California Department of Transportation in Wrongful Death Case
Press Releases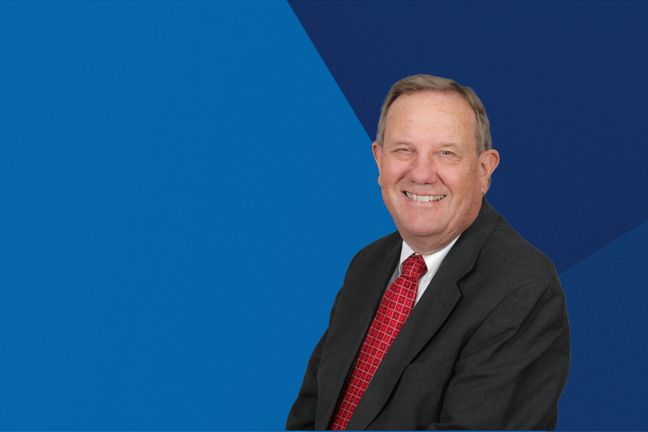 Tyson & Mendes Successfully Defends California's Kern County in Wrongful Death Suit
Featured Articles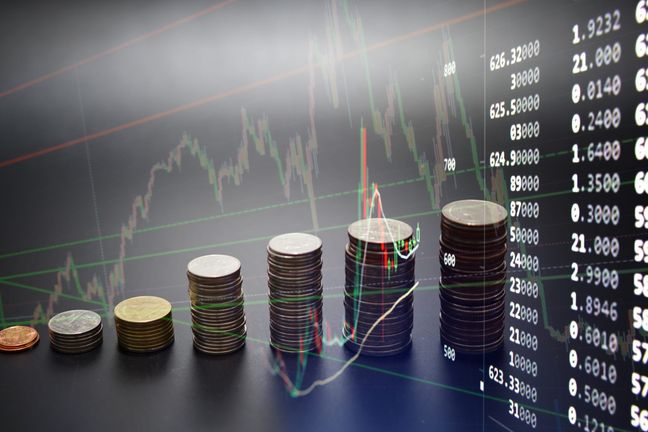 Tyson & Mendes Saved the Insurance Industry Over $1 Billion in 2022
Press Releases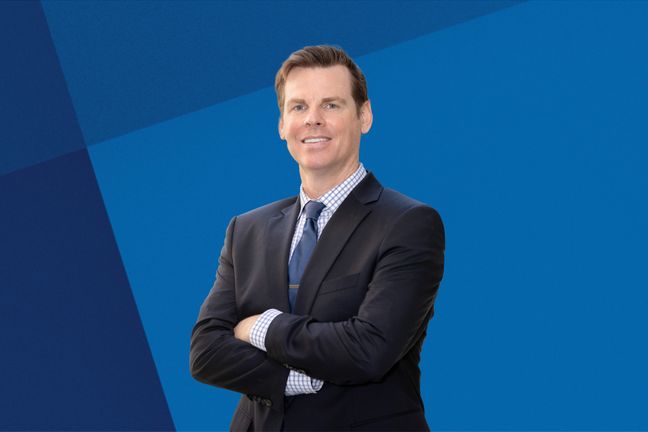 Orange County Court Grants Motion for Summary Judgment in Favor of Defense in Wrongful Death Case
Featured Articles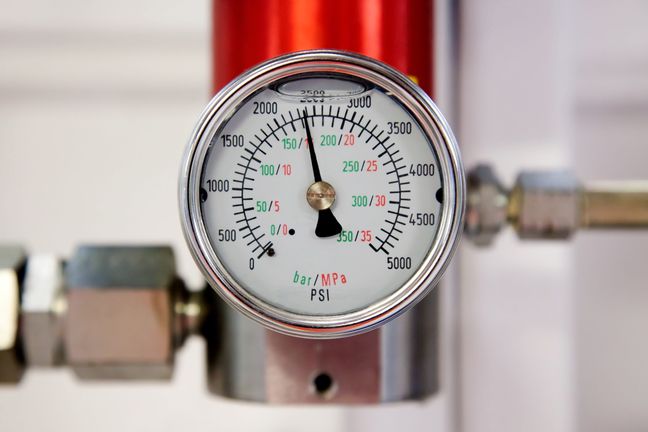 Tyson & Mendes Wins Motion for Summary Judgment in $15 Million Products Liability Case
New York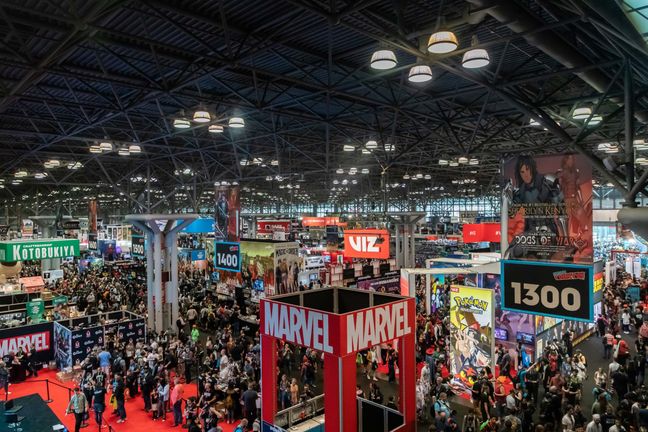 NY Supreme Court Rules in Favor of Defense in Labor Law Case Associated with Comic Con
Premises Liability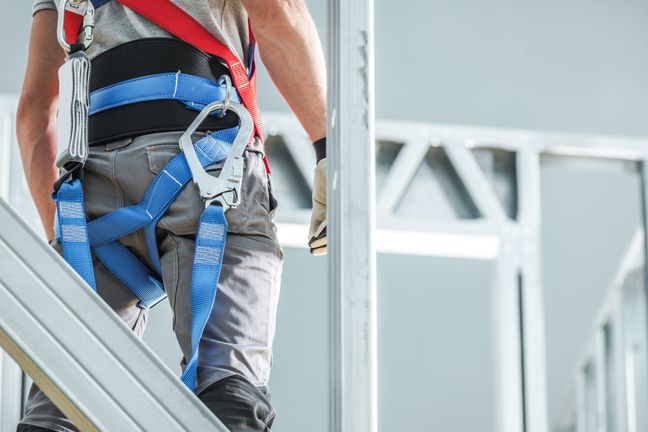 Los Angeles Court Rules in Favor of Defense in $10 Million Premises Liability Case
Nuclear Verdicts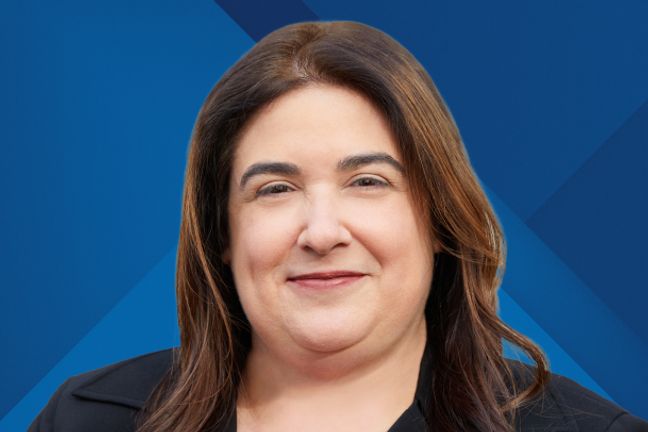 New Jersey Court Rules in Favor of Homeowner's Association
Nuclear Verdicts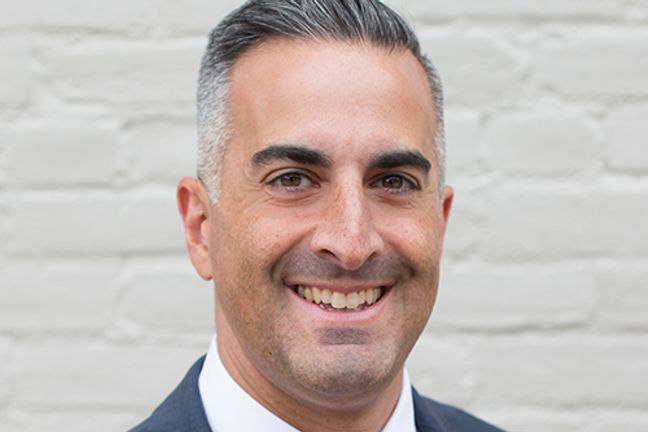 Wyoming Jury Rules in Favor of Omni Group in Products Liability Case
Nuclear Verdicts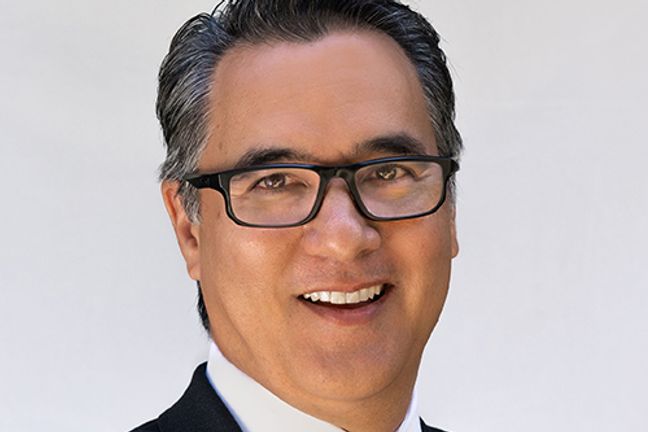 Tyson & Mendes Wins on Summary Judgment in an $8 Million Traumatic Brain Injury Case
Sex Abuse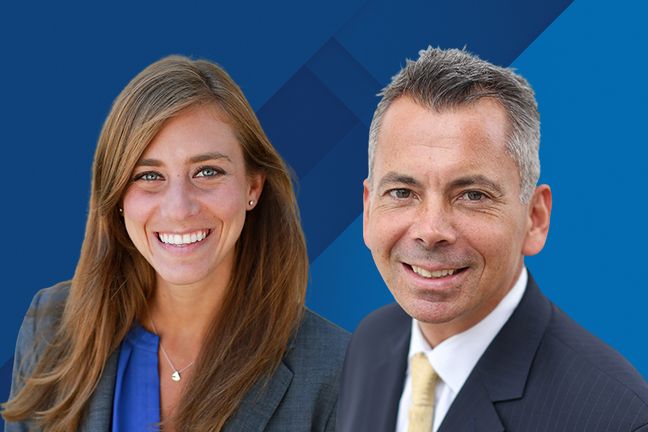 Tyson & Mendes Saves School District Nearly $30 Million in Sexual Assault Trial
Sex Abuse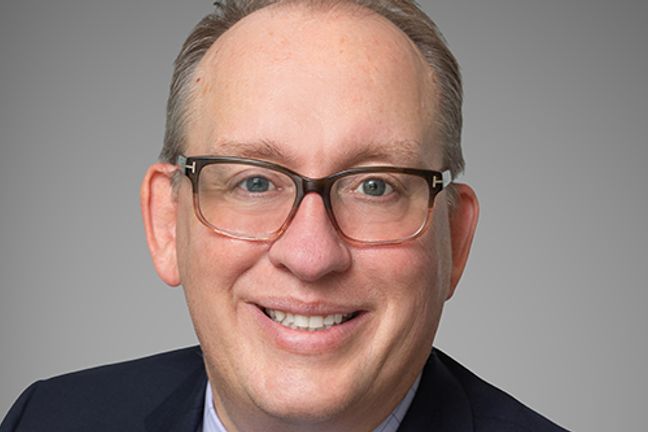 Professional Skaters Association Dismissed from High Profile Sexual Abuse Case
Sex Abuse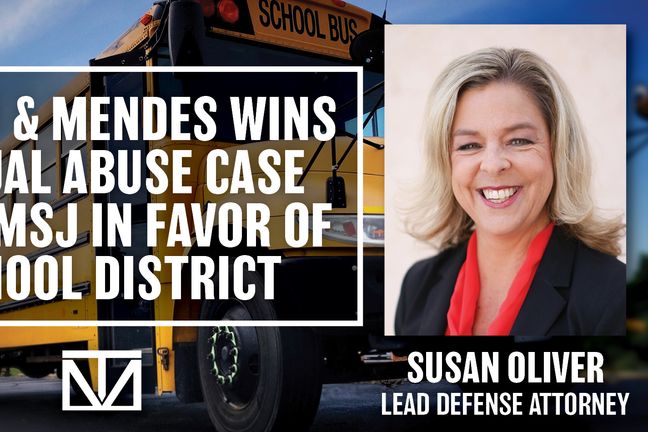 Tyson & Mendes Wins Sexual Abuse Case with Motion for Summary Judgment in Favor of School District
Environmental & Toxic Tort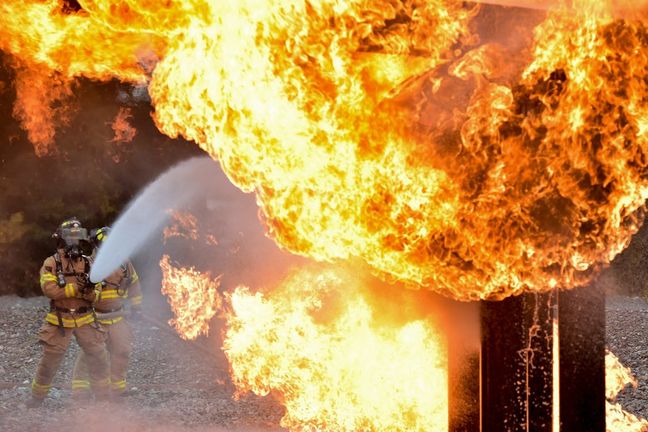 San Diego Appellate Court Rules In Favor of Omni Resort: Tyson & Mendes Wins Appeal on $125 Million Summary Judgment Win
Automobile Liability Litigation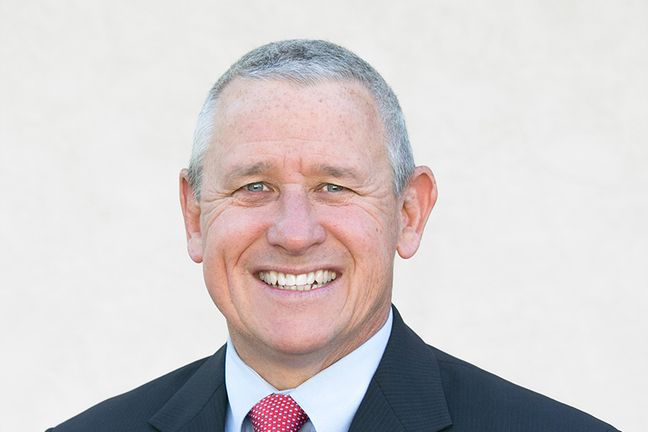 Jury Awards Full Defense Verdict in $22 Million Airport Shuttle Case
Automobile Liability Litigation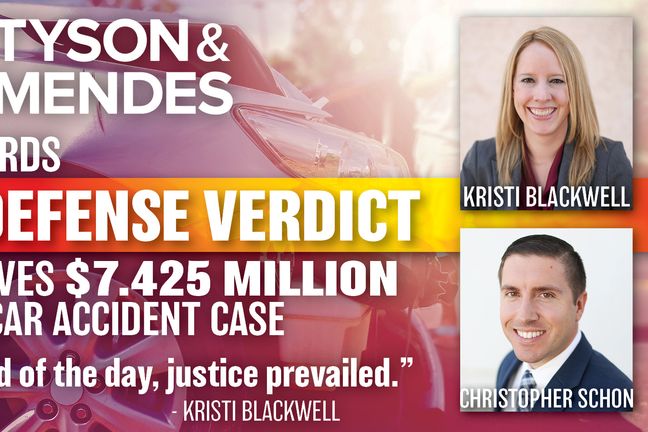 Jury Awards Full Defense Verdict in $7.4 Million Multi-car Accident Case
Professional Liability Litigation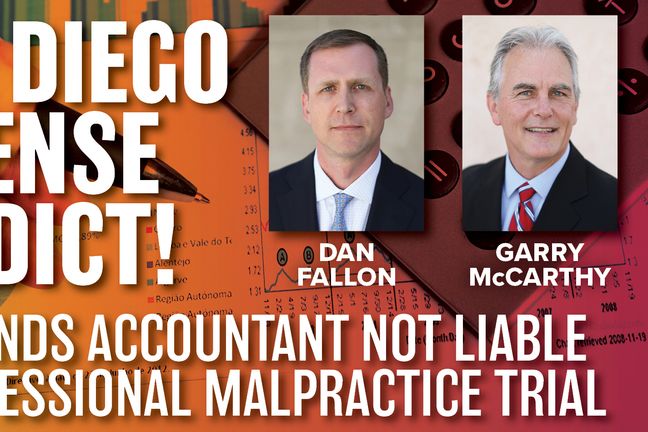 Jury Finds San Diego Accountant Not Liable in Professional Malpractice Trial
Medical Malpractice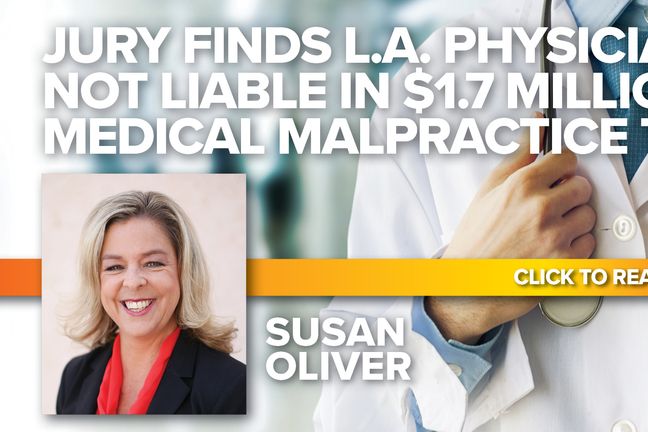 Jury Finds L.A. Physician Not Liable in $1.7 Million Medical Malpractice Trial